Information design patterns
2008-05-16 14:13:00 - by Nicolas Malevé
A website that parallels a thesis titled The Form of Facts and Figures from Christian Behrer at the University of Postdam. It contains "a collection of 55 design patterns that describe the functional aspect of graphic components for the display , behaviour and user interaction of complex infographics ".
For each of these patterns, there is a description, a layout example and a real world example.
It is a bit unfortunate that this interesting and carefully designed information is embedded in a flash application, but reading from the homepage of the website, this will maybe change in a near future.
Mapping Me / Mapping You
2008-04-06 19:44:14 - by Nicolas Malevé
April 25, 18:00 - 20:00, in Recyclart
A roundtable meeting about cartography between An Mertens (and other members of
Saturdays, Woman and Free Software)
, Liesbeth Huybrechts (Cultural studies PHD KuLeuven, researcher, curator),
Nicolas Malevé (Tresor software, Towards.be) and
Peter Westenberg (Routes + Routines) investigating GEO data control, different layers
and perspectives on the art of mapping, subjective cartographic perception and /Home as private territory.
w h e n : April 25, 18:00 - 20:00
l o c a t i o n : Recyclart, GARE BRUXELLES-CHAPELLE, Rue des Ursulines 25, Brussels
The Map Is not the Territory ?!
2008-04-03 18:31:47 - by Femke Snelting
Wednesday, April 16th | 19:30-22:00hrs_Piet Zwart Institute | Mauritsstraat 36 | 3012 GC Rotterdam (The Netherlands).
Public event : "The Map Is not the Territory ?! - Mapping as critical investigation".
With : Bureau d'Etudes (FR), Theo Deutinger (AU/NL), Christoph Wachter and Mathias Jud (CH), Michael Murtaugh and PZI Media Design M.A. students ; introduction by Florian Cramer.
Human Brain Cloud
2008-03-26 10:16:01 - by Nicolas Malevé
A massively multiplayer word association game, by Kyle Gabler.

Redes digitales y espacio físico
2008-03-03 18:30:11 - by Nicolas Malevé
Medialab Prado organises a «production workshop, talks and seminars around geospacial web and geosemantic web, web 2.0, place blogging, urban markup, open source mapping tools, locative art and locative gaming.»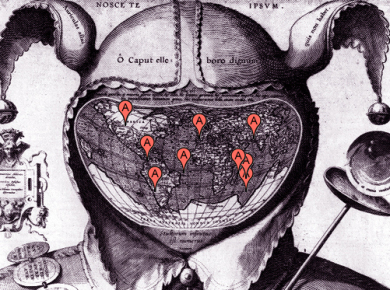 Their list of selected projects looks impressive.
Earlier workshops include Visualisar and its Advanced Project Production Workshop Showcase.
Gli esclusi
2008-02-22 13:22:57 - by Nicolas Malevé

«Decisions are normally taken from the high, by a minority of players, leaving out those more related to the territory.
How we can get them in?
Through four steps: awakening, aggregating, activating, complaining»
Gli exclusi is a map/diagram created by density design to illustrate a scenario to organise citizens response to the Italian National Action Plan.
Read more about this map (and many more )on the density design's website.
Future Map
2008-02-11 17:21:09 - by Nicolas Malevé
From the text Future Map, by Brian Holmes
"The trading function are overlaid on a map of the Middle East, like windows of geopolitical opportunity. This interface, and the lure of profit it offered, would be the electrodes attached to the precognitive lobes of the investors. If they produced striking images, then preemptive policies would follow."

"The PAM trading interface is literally a "future map." It is also a perfect example of what Foucault calls a "security device," and it offers precise insight into the dynamics of surveillance under cybernetic capitalism. It is not a police program, but a market instituted in such a way as to precisely condition the free behavior of its participants. It produces information, while turning human actors into functional relays, or indeed, into servomechanisms; and it "consumes freedom" for a purpose. Like all security devices, it serves two functions. One is to optimize economic development: in this case, the development of financial speculation. But the other function is to produce information that will help to eliminate deviant behavior, of the kind that can't be brought into line with any "normal" curve. This is the double teleology of closed-loop information systems in cybercapitalism. The map of the future is always a promised land to come. But there are always a few enemy targets on the way to get there. The question is, do you hold the gun? Do you just watch as the others take aim? Or do you try to dodge the magic bullet?"
(Re)battre les cartes
2008-02-06 16:09:31 - by Rafaella Houlstan-Hasaerts
unsiteblanc.com est la base de données du travail de l'Atelier de Géographie Parallèle (AGP) sur les zones blanches des cartes, travail développé à partir d'"Un livre blanc", un récit de Philippe Vasset paru chez Fayard en septembre 2007. Philippe Vasset a co-fondé l'AGP avec les plasticiens, Xavier Courteix et Xavier Bismuth. Le groupe signe toute ses réalisations collectivement.
unsiteblanc.com agrège toutes les tentatives de représentations de ce qui apparaît sur les points aveugles de la carte 2314 OT de l'Institut Géographique National. Ces représentations peuvent prendre la forme de photographies, de récit, de vidéos ou bien d'esquisses réalisées en marchant sur une zone blanches avec un GPS puis en projetant la trace obtenue sur un support.
Desktop GIS for Linux, a series
2008-01-28 21:36:32 - by Nicolas Malevé
The Linux Journal is publishing the first issue of a series about Linux and GIS desktop publishing.
The Udig software
Thanks, Eric!
Exxon secrets
2008-01-17 20:43:34 - by Nicolas Malevé
Exxon secrets is a project by Greenpeace that documents Exxon-Mobil's funding of climate change skeptics. It displays a network graph connecting the different organizations that receive funding from Exxon-Mobil and their spokespeople.