"The World" by Dubaï
2009-06-15 16:37:05 - by Antoine Berlon
The world
Cette photo-satellite issue de Google-earth représente "The World" qui est un archipel d'îles artificielles situé au large de l'Émirats-Arabes-Unis de Dubaï (golfe Persique). A termes, cet archipel représentera une planisphère où figureront tous les plus grands pays du monde.
Ce "très ambitieux projet architectural" rassemblera plus de 250 îles privées principalement allouées au tourisme. Les plus grandes fortunes du monde pourront s'offrir une île pour la modique somme de 10 millions de dollars pour les plus petites à 45 millions pour les mieux loties. Les travaux, toujours en cours, ont débuté en 2003 et devaient se stopper initialement en 2008. Il faut savoir que pour réaliser de tels édifices, une main d'œuvre, principalement d'origine étrangère travaille de manière continue, 24heure/24 et 7jours/7 dans une grande précarité.
Si vous voulez néanmoins acquérir une de ces îles, vous pouvez consulter ici le très noble site officiel.
4816
2009-03-09 23:46:01 - by Nicolas Malevé

« 4816 is about finding the minute points on the GPS grid in the urban area of Vienna.
The point N 48° 11,000´ E 16° 19,000´ is an example of these 185 intersections
of latitudinal and longitudinal minutes within Vienna. The intercept points are about
1.9 km apart on the north-south axis and about 1.25 km apart on the east-west axis.
The goal with 4816 is to find those intercepts with the support of the GPS tool and
document them photographically. At each intercept point a photo is taken in each
compass direction.
By traversing the GPS intercept points you take a journey through Vienna. The goal is
known. But what will be the nature of its environment? Will it be approachable? What
will be the special thing about it? It will be a interesting process to observe how
long it will take untill all 4816-points are found. A significant number of points
will be in buildings. A few will be in the middle of the Danube. These are two of the
difficulties we have encountered. It remains to be seen which ones await us.»
Amphibian organilectric
2008-05-23 11:16:21 - by Nicolas Malevé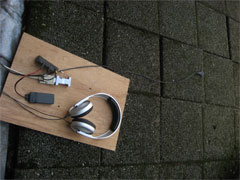 On theweblog of Yolande Harris, you will find the details of her project Satellite Sounders, which «maps» satellites positions into audio.
Here is a note she wrote to explain her ideas on mapping
by "mapping" i refer to decisions of how to transform data into sound

this is a relatively simple example:
GPS data is limited in its ranges and frequency of change
the sound is limited by the computing power of the small device

i need identify the prominent characteristics of movement and change in the data and map this to suitable changes in audio. but to do this I need to have an idea of the density of the soundfield I will make, how perceivable changes in data will be, how the characteristics of movement will be traceable in the final sound.

the data has specific numerical ranges and limits. the sound is only limited by human hearing range and distortion of the audio signal. so choices have to be made at the specific level of numerical transformations into audio processes and the final audible result will be particular to those choices.

the sonification of data implies an obligation to choose sounds, and engage in the sonic as composition and as a field of emotive potential to the listener, basically pure sound overlayed or underlayed with patterns of meaning that may or may not be apparent in the audible experience.