All streets
2008-12-10 10:18:30 - by Nicolas Malevé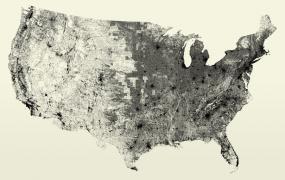 All streets: all of the streets in the lower 48 United States: an image of 26 million individual road segments. The last work of Ben Fry.
«The data in this piece comes from the U.S. Census Bureau's TIGER/Line data files. The data is first parsed and filtered (to remove non-street features) using Perl. Next, using Processing, the latitude and longitude coordinates are transformed using an Albers equal-area conic projection (which gives it that curvy surface-of-the-Earth look that we're used to), and then plotted to an enormous image that's saved to the disk. »
Read more here for technical details and here to zoom in the project.