2008-06-25 14:01:14 - by Pierre Huyghebaert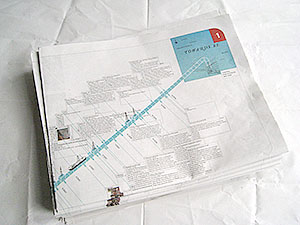 [ EN ]
The new towards publication is out.
It contains :


a history of the project including the numerous workshops and talks that happened the last two years.


the schemes, ideas and plans for Tresor, a route accross free softwares for a subjective and collective cartography


an overview of the maps collected in the framework of our nascent atlas of the subjective maps of Brussels
Using the tools and ideas explained in the Tresor section of the publication, we produced the cover. The code we have written at this occasion as well as an explanation of the process is available here.
Special thanks to the PEPRAV network for making this second publication possible and to Rafaella for her wonderful redactional work, insights and energy.
This publication is released under the terms of the Free Art License and you can download it here (45 Mb).
[ NL ]
Sinds enkele dagen is de tweede editie van onze tweede krant verschenen in een oplage van 3000 exemplaren. 8 goed gevulde pagina's zijn het resultaat van meer dan 9 maanden voorbereiding. De grotendeels engelse inhoud bestaat onder andere uit :


hoogtepunten van twee jaar activiteiten


een selectie uit onze atlas


een verklarend schema van het Tresor software-platform


alle posts die op dit blog gepubliceerd zijn verwerkt in een cover-beeld
Gepubliceerd onder de Free-Arts licentie
Je kunt de krant ook downloaden (45 mb)
[ FR ]
Notre deuxième journal est sorti à 3000 exemplaires de chez nos fidèles imprimeurs depuis quelques jours. Plus de neuf mois de préparation pour un huit pages bien tassé.
Au sommaire, principalement en anglais :


Le point sur plus de deux ans d'activités


Une sélection parmi notre atlas


Un schéma explicatif complet de la plateforme logicielle Trésor


Et une couverture qui reprend tous les post publiés sur ce blog depuis le début !
Publié sous licence art libre il est aussi disponible au téléchargement (45 Mb).